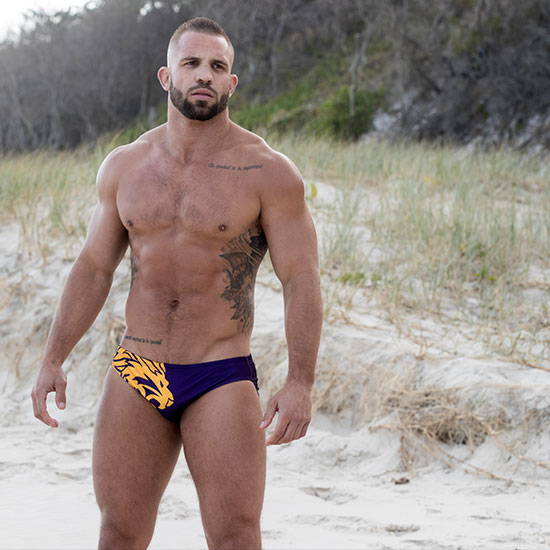 One of the most frequently asked questions is Size and Fit.
Unfortunately there's a lot more to a great fitting pair of swimmers than your waist size.
Your waist is somewhere between your belly button and your hips. Your Sluggers are correctly worn in a straight line around your hips.
Our swimwear is either mid rise (Deetees and Classics) or low rise (Racerbacks) with different side widths to suit different body shapes.
How do we put this politely? There's really no way.
The back should be a few centimetres (an inch) above the top of your butt crack, and the front should slightly - repeat SLIGHTLY - dip in the centre front above your junk.
You shouldn't need to pull the draw string in to make them fit around your waist - it's just there to stop them sliding off when you dive in or get dumped by a wave. The Sluggers should sit
comfortably around your hips without tying.
Our fit guide has all the information for you about waist size - but which style should you choose.
If you're a bigger framed bloke of any height you should choose DEETEES. The thicker sides work in proportion to your body and they won't look 'skimpy'. So if you're muscly or just thicc around the belly and legs you should aim for a wider side. Proportionately it will all work.
If you're tall - choose DEETEES. The slightly wider 7cm side width will work in proportion to your legs and torso.
For a taller guy with a longer torso the Classics will help elongate your legs.
If you're 5"10 or under think about trying Classics or Racerbacks over the DEETEES.
For lean guys, the Racerbacks are cut low to elongate your torso. The 5cm sides lengthen your legs. The V shape at the back stop them looking saggy. Proportionately they won't look skimpy.
The Classics are mid rise for solid blokes. Ben is wearing a pair of Classics in the image above this post. The D shape in the bum will stop you feeling like you need to pull them out but the 5cm sides will ensure they are in proportion with the rest of your frame. They will look sportier than the DEETEES for a man around that 5"10 mark or less.